Writers Speak
The Hindu, 4. of february 2011.
The surreal, the absurd and Don Juan are some issues novelist Mathilde Walter Clark and poet Colie Hoffman have explored in their works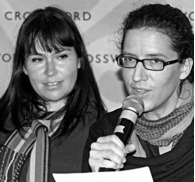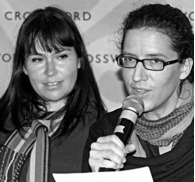 Danish novelist Mathilde Walter Clark and American poet Colie Hoffman have a distinct way of looking at life, people and history. The duo was among the seven writers chosen by Sangam House to participate in its Residency Programme in Pondicherry.
An evening with the seven writers was organised by Sangam House in association with Toto Funds the Arts.
Colie wanted to explore India in other ways, not only as a visitor. "I am glad I came here. Everyone has been supportive of each other, especially when it came to exchanging our works and ideas." Mathilde, on the other hand, smiles and says simply: "My visit to India was so inspiring that my next work is based on it."
Every word in Colie's poetry is infused with life and irony. "My poetry is surreal, but has a narrative element to it. It deals with serious issues, but at the same time, tries not to take things too seriously." Her creativity takes its own course, sans any planning. "I usually start with a line or an image that comes to me. I never start with a definite idea; I just start writing and see what happens once I do, until I can come back to it. At times, starting is difficult; it's like waiting for God!" says the New York-based poet whose poetry has been published in Blood Orange Review, Obsidian: Literature in the African Diaspora and the Furnace Review.
Though Colie "absorbs her influences and gravitates towards them", she avoids reading any poetry before writing. "I write out of instinct, craftsmanship comes later," she explains. She enjoys Haruki Murakami's novels though. The mysterious element that is palpable throughout "Kafka on the shore" is intriguing for Colie. "What I admire about Murakami is that he takes risks. Sometimes, I feel comfortable and happy with not knowing."
"I find beauty,
meaning and purpose
in the uninteresting"
Mathilde breezes in with a characteristic playful smile and a hello. Her critically-acclaimed work "Priapus: A Don Juan Story", written in Danish and partly translated into English by Martin Aitken, is an alternative narrative. A combination of ironical wit and sarcasm, penetrating observations and detailing makes "Priapus" stunning. "The traditional perspective about Don Juan is that he should be corrected. Those stories were told by 50-year old men who knew the world through the reading of books. Men in monasteries. So there is that fantasy side to him. I wanted to explore that, and yet deviate from it."
"Priapus" was inspired by Danish philosopher Soren Kierkegaard's "Diary of a Seducer". "Kierkegaard is one of my greatest inspirations. His satire is fascinating," says Mathilde who also has a post-graduate degree in philosophy.
"I wanted to write a serious book, but a mocking tone pervades throughout in 'Priapus', making it satirical. "I have a thing for 18th century writing, in which characters and places are described in ways that are absent in modern writing. Films have also helped me hone my skills of describing characters in detail," Mathilde contends.
Mathilde sardonically observes the absurdity of life around her. "I like to go undercover, in a manner of speaking, and watch from a distance the mundane things people bother over. I find beauty, meaning and purpose in the uninteresting."
SRAVASTI DATTA