Acclaim for Gips
Gips. (Cast). Novel. Politikens Forlag 2012.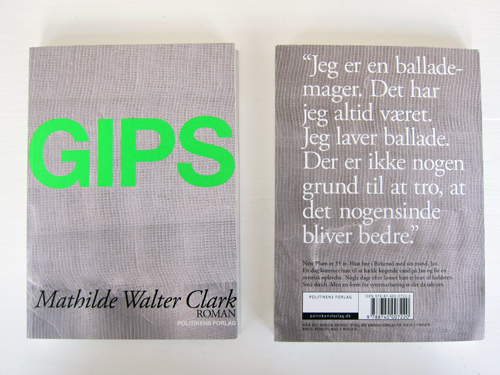 "Mathilde Walter Clark has written a truly funny novel of fury. Eloquent with an original sense of humor and a grotesque eye for the black comedy of everyday life"



- Linea Maj Ernst, Information
"Mad in the clear-headed way"



- Johanne Mygind, Weekendavisen





"Mathilde Walter Clark's language sparks. With lazer beam precision she dismembers the pc tyrany and the modern family. In such away that you almost fall in love with this half-psychotic female narrator. You are in great company.



- Martin E. Seymor, Fyns Amts Avis





"Sharp, absurd and most of all insanely entertaining"



- Alt for Damerne





"Gentle, yet fierce in her solidarity with Nete and her unwillingness to submit to Everyday Denmark's need for homogeneity. It is entertaining and sharp, and you are in excellent company with the fury from Birkerød."



- Christina Blangstrup, Frederiksborg Amts Avis.
"A funny, well-written, rhythmic novel"



- Femina
"Mathilde Walter Clark has written a wonderfully political incorrect novel."



- Litteratursiden





"A wild revolt against bourgeoisie, habits and the 'we-usually-do-it-this-way" kind of thinking. It is a remarkable book, Mathilde Walter Clark has written. Wittily told in a delightfully everyday language tone.



- Nordvestkyst
Acclaim for Grumme historier
Grumme historier (Grim stories). Samlerens forlag 2011.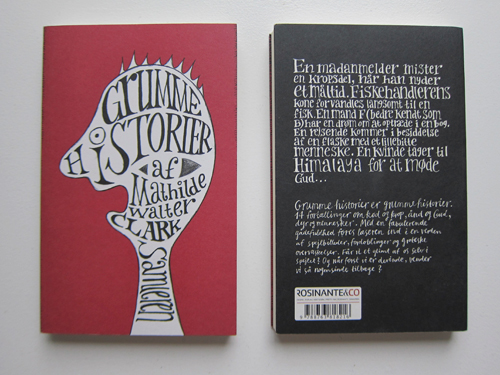 "Baroque, indeed, and sometimes grim. But you quickly sense that there is more to Clark's prose. There is something on stake. She wants something with her stories, which makes her a rare species among Danish prose writers, who far too often settles for ordinary writing about ordinary people's ordinariness. It is truly well done."



- Kristoffer Zøllner, Berlingske
"Mathilde Walter Clark seems like Gyrdir Eliasson [recipient of Nordic Counsel Literature Prize 2011] to be in dialogue with masters such as Kafka and Borges. There are metamorphoses, absurdities, doubles, metafiction, realities askew and screwed. It is intelligent, well-written, clever and funny, and the best of the stories stays with the reader as simple, enigmatic and a little heart-breaking parables...Enjoy!"



- Lilian Munk Rösing, Information.
"There is substance and a true will to investigate the outermost territories of existence in Mathilde Walter Clark's masterly strong Grim Stories. This is my first meeting with Clark – and I am sold! [...] Here is the inner struggle, the true provocation, that doesn't only put the reader but also the author at stake.



- Liselotte Weimer, Kristeligt Dagblad.
"If you need a dose of humorous gravity in the flood of well-behaved Danish descriptions of everyday life you should go on a trip with Mathilde Walter Clark. The cover, drawn by the author herself, is a signal that you are leaving mainstream area."



- Birte Weiss, Weekendavisen.





"A fine balance between imaginative play and philosophical parable that investigate the fluid boundaries of the human and non-human. They are beautifully written and elegantly put together. Grim in the heartbreaking way."



- Lasse Horne Kjældgaard, Politiken.





Mathilde Walter Clark's collection of stories Grumme historier is an intelligent play with fairy tale. Not the flat idyllic version of fairy tale, but the sneering, grotesque and undermining. It is both entertaining and frightening. Not a bad combination.



- Erik Svendsen, Jyllands-Posten
Zany tales from around the world. With a strong legacy from Karen Blixen [Isak Dinesen] Mathilde Walter Clark has written 14 stories with mysterious and mythical fairy tale traits.[...] An international firecracker.



- Femina






The greatest joy of literature is it's prose. Not the story, the plot. Nor the love tangles or everything else otherwise enjoyable. But the well-composed sentence that can commands even the most unwilling reader to listen with the eyes. Mathilde Walter Clark write such books. [...] It is tempting to talk about Blixenian [Isak Dinesen] dimensions in Mathilde Walter Clarks production, but every artist deserves to be praised as an individual without comparison. In Clark's productions you sense the streaming, unimpeded talent that can fill the shortage of quality literature –in years to come.



- Rikke Decara, KultuNaut.
Acclaim for Priapus
Priapus. En forførerhistorie. (Priapus. A Don Juan Story). Novel. Samlerens Forlag 2010.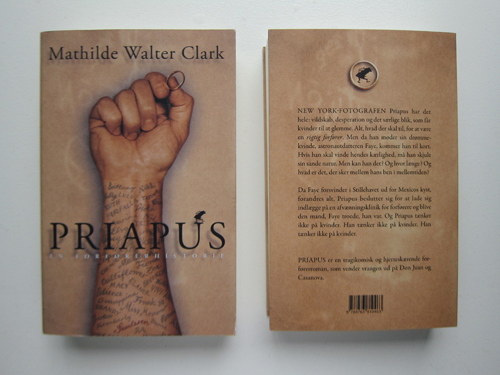 "Finally a road novel, a seduction story, a woman's mild yet ruthless exposure of the Don Juan's self image, an epos reverberating Greek mythology and roman satire, a humorous weaving of the story of Parzival and a Rushdiesque magical realism; and finally a bittersweet tale of fate with a touch of Blixen [Isak Dinesen]. All updated to modern times and superbly supplied with wonderfully baroque scenes and minor characters … a wonderful, funny, wise, generous, tragi comical everything-novel about the eternally restless male lust."



- Mikkel Bruun Zangenberg, Politiken






»Mathilde Walter Clark has written an existentialistic, tragicomical and entertaining novel about the male seducer, that have fascinated and repelled through all times. A genuinely great story. Elegant and liberating."



- Camilla Lærke Mors, Ekstra Bladet






"Way to go! Mathilde Walter Clark is funny, sharp and clear cut on behalf of the oposite sex. A novel of strong and beautiful words"



- Birgitte Ellemann Höegh, IN
"A great, broadly appealing and entertaining novel."



- Skønlitteratur, P1






"Absurd, baroque, serious and innovative."



- Birte Gam-Jensen, MetroXpress
Acclaim for Tingenes uorden
Tingenes uorden. (Disorder of Things). Stories. Samlerens Forlag, 2006.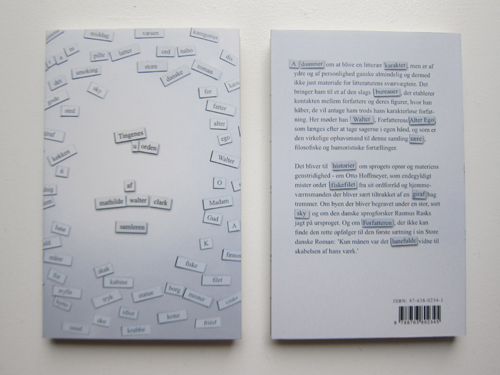 "I have to express my sincerest joy that such a dry, crafty and baroque pen has entered the arena."



-Lotte Folke Kaarsholm, Information






"The most original Danish writer since Svend Åge Madsen."



- Mogens Damgaard, Fyens Stifttidende
"I will gladly remove my critical head for the bold thinking and the courage of Mathilde Walter Clark ..."



- Michael Lambæk Nielsen, Politiken





"Little pearls."



- Mille Collin Flaherty, Costume.
"[The stories] don't simply entertain, they expand and challenge the reader [...] A good piece of advice: get your hands on these wise and illuminating stories that posses a humor so absurd that you would think they were composed in a pitch black cellar."



- Anna Beckmann, DR kultur







"Elegantly constructed, tightly told and brilliantly imagined,."



- Hanne Tværmose, Bookworm
"Beautiful characters."



- Louise Thorsted, Alt for Damerne





"Mathilde Walter Clark simply writes like Mathilde Walter Clark: swift, crazy, crystal clear and with an odd, logical pace."



- Femina
"[She has a] rare ability to develop a smile on her reader's lips"



- Jonas Hindsholm Bentzen, Midtjyllands Avis
Acclaim for Thorsten Madsens Ego
Thorsten Madsens Ego. (Thorsten Madsen's Ego). Novel. Samlerens Forlag, 2004.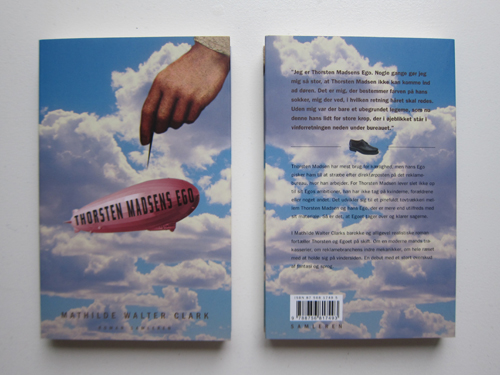 "...an insanely well-written novel which bubbles over with humor and linguistic ingenuity [...] a talented raid of the modern human psyche"



- Victoria Westzynthius, Politiken






"There is far between the laughs in contemporary Danish literature. But Mathilde Walter Clark supply them."



- Hans Flemming Kragh, Ekstra Bladet
"....a magnificent burst of linguistic energy and a huge joy in story-telling [...] it immediately catches the reader and call for enthusiastic outbursts such as: Yes! Way to go! Well written!"



- Leon Jaurnow, Kristeligt Dagblad
"Mathilde Walter Clark's first book is a promising and intelligent story about a man being driven by his ego's admonishing voice."



- Jon Helt Haarder, Jyllandsposten





"An excellent and compositionally inventive debut..."



- Jens Henneberg, Nordjyske Stifttidende







"…an outstanding debut. (…) it is elegant and convincingly written.



- Hanne Tværmose, Bookworm